Regular price
Sale price
200,00 CZK
Unit price
per
Sale
Sold out
Care Instructions - LARP weapons

Avoid cutting the weapons with sharp objects, likewise do not hit hard or rough objects, like rocks, benches or trees. Try to avoid substantial blows to edges of armor, especially things like swordbreakers. Also, pay attention to the potential sharp edges of your own gauntlets, as some can cut into cross guards or other parts of the hilt when fencing. Make sure to avoid long term compression of the eapons, especially during storage. Our cross guards are made of hard rubber and do not mind blows in combat, they bend slightly but return immediately. The cross guards however can get deformed with extreme bending over longer periods, when they are for example put under luggage in the trunk of a car or in a chest.

If you tear the foam of the weapon, you can repair it with a high-quality flexible superglue. We personally recommend Loctite Super Attak Power Flex gel, which fills up and strengthens the crack in about 10 minutes. The color of the weapon can be restored or changed with paints made for plastics. A broken core unfortunately cannot be repaired. FAQ
Care Instructions - LARP blasters

The locks on the blasters are not connected to the mechanism itself and they don't move when shooting. They are solid steel, much like most of the barrels, so while accidentally shooting someone will be harmless, hitting them with the blaster definitely won't be. Therefore be careful when brandishing it in crowded situations.

While the blasters are relatively hardy, don't expose them to needless stress, like dropping them on the ground or using them to stabilize a table. Also don't use them to parry blows. The lock might tear out, if there's unreasonable leverage on it and it's very likely to damage any larp weapon it gets hit with.

The most important part of the maintenance of our blasters is keeping them well oiled and lubricated. This prevents rust and ensures that the mechanism operates smoothly. You can use any kind of anti-corrosive technical oil, the seal in the piston is leather, which doesn't degrade in oil, like rubber does. I personally use Silkal, which is silicone based. To oil the lock, simply spray it and use a rag to wipe excess oil. You can also wax the lock to make it more rust resistant, but I find that oil works sufficiently well. If you get any rust spots, you should be able to easily clean them with an abrasive sponge. FAQ
Care Instructions - Leather products

Our holsters, munition satchels and sword-belts are made from high quality vegetable tanned leather and the staining and subsequent oiling is done with natural agents, and as such they necessarily require some maintenance. Let's elaborate intelligibly:

Best method of caring is to actively use the products. The more you use them, the better. This is especially applicable to belts because they are worn in the most "personal" manner.

If your product spends some time (namely circa month and more) stored somewhere, please make sure you use leather conditioner (readily available in your local shoe or DIY stores) before taking the product on an event again, because after that
long while of idleness, the material may be prone to undesirable cracks. The conditioner usually comes with a handy manual, but putting a small amount of it on a cotton cloth and then rubbing the whole product should do the trick.

Other instance in which some level of care is greatly advised is if your product gets wet somehow – during rainstorm, while crossing wild rivers and/or streams, after falling overboard, whilst fighting some terribly drooling monster or celebrating something by ingesting liquids of various origin after a day well-spent – we advise to let the product dry naturally and then, once again, thoroughly rub it with an above-mentioned leather conditioner.

Finally, please do note that leather of all kinds tends to get ever so slightly darker with time and both from usage and maintenance. FAQ
How long does delivery take?

We currently manufacture our larp weapons to order and we usually do not have any of them in stock. Your weapons will go into production only after you order and pay. How long the production takes depends on how busy we currently are. We try to make and send the weapons as quickly as possible, but we cannot guarantee the precise completion of your order. We are currently averaging 20-40 days between order and shipping for meele weapons and 30-50 days for range weapons.

The exception are weapons from the Ready to Ship category, which are usually shipped within 3-5 workdays.
Share
View full details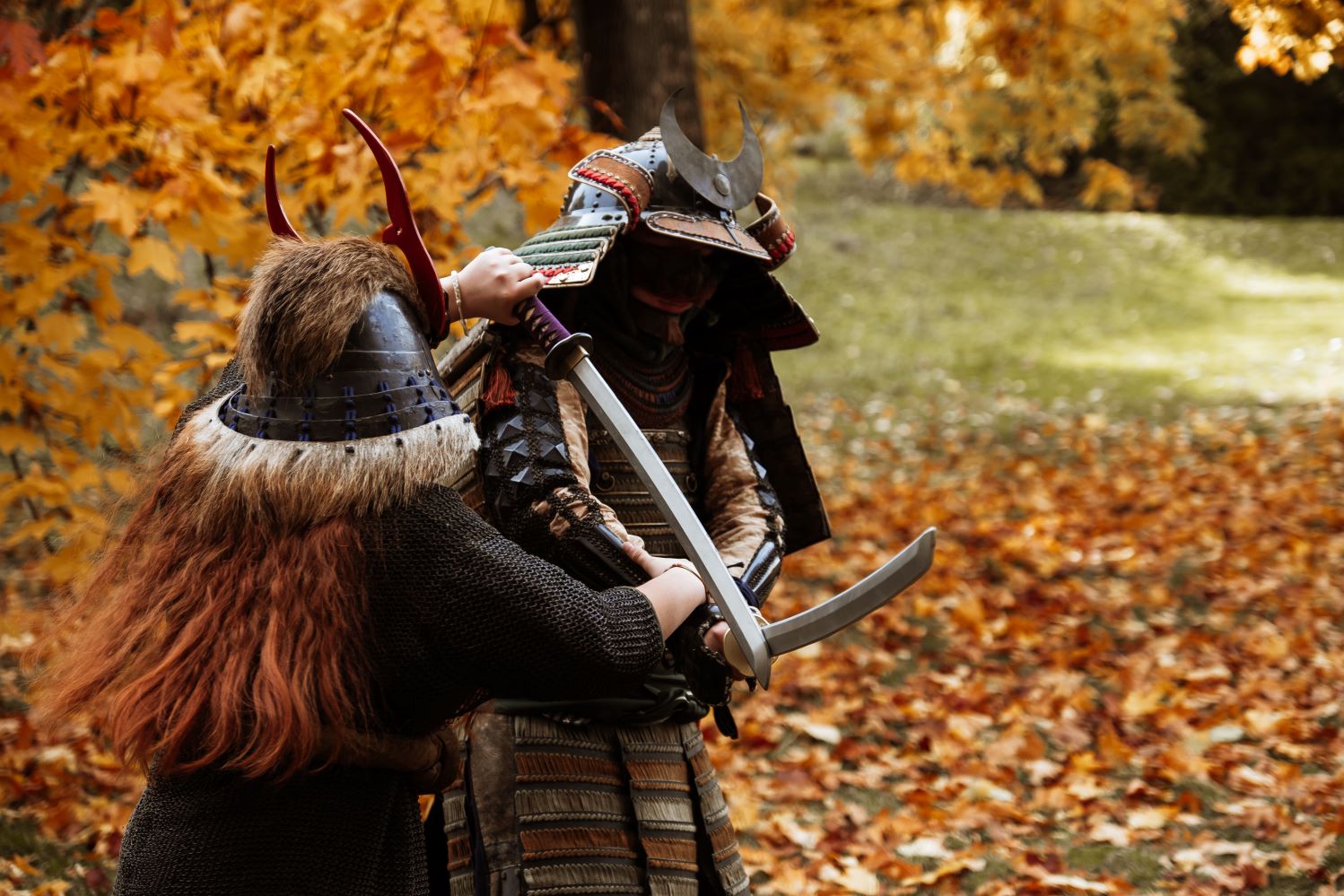 New Japanese swords
In our offer you can now find the Katana and Wakizashi swords! Furthermore we offer lacquered scabbards for both swords made from durable plastic! Both swords have a wide range of customization options. We believe you will appreciate the many possibilities of color combinations, sizes and styles.
Did you know?

That every product can be combined exactly as you wish? You want a viking hilt with a falchion blade, you got it.

Quality matters to us

We meet your requirements, so we produce only after you send us your order, so that each product is exactly according to your wishes